J/99 Update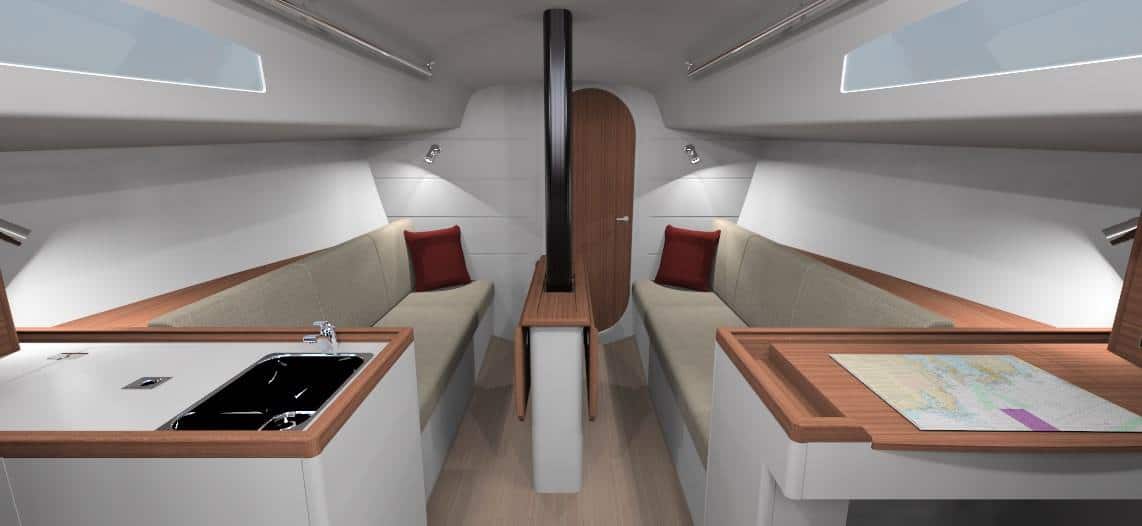 J/Boats and J/Composites are pleased to announce the new J/99, a 9.9 meter (32.9') crew-friendly, offshore-capable speedster currently under development at J/Composites in Les Sables d'Olonne, France.
The J/99 is the newest addition to the J Sport range, combining headroom and comfortable interior accommodation with the tiller-driven responsiveness of a sport boat. The sail and deck plan are optimized for easy handling with fewer crew, and incorporate the latest developments from the award-winning J/121 and the new Offshore Sailing World champion J/112E. The interior features twin aft cabins, a proper sit-down forward facing nav station, an L-shaped galley, and a private forward head with sail locker.
Now more than ever, sailors are attracted to adventure-filled, signature events (Fastnet, Middle Sea, Chicago-Mac, etc.) where straight-line speed, sail handling, strategy and weather routing are all equally put to the test. The J/99 is designed to excel in these events (both fully crewed and short-handed) while delivering the exhilarating, family-friendly experience the J Sport range is known for.
"The J/99 opens up a wide range of sailing possibilities," commented designer Alan Johnstone. "The versatile sail plan, balanced hull form and efficient cockpit will work as well for short-handed offshore sailing as for weekend sailing with friends. The J/99 packs a lot of performance and versatility into a manageable size and budget."
Background
The J/99 is being introduced by popular demand. It started with the growing trend in short-handed racing in the UK and France where several former J/Boat owners gravitated into 9-10 meter purpose-built boats to compete in IRC double-handed and fully crewed open course events. While the J/97E performance cruiser-racer is a great option for closed course (windward-leeward) IRC events, its hull shape (designed to accommodate a larger cruising interior) is less suited to high-speed reaching which is preferred for offshore, open course racing.
18 months ago, we conducted a "Design your Next J/Boat" survey to current J owners and sailors around the world. Over 700 responded with detailed descriptions of their next dream boat. While sorting the many responses we noted a large number wishing for a speedster-style J with headroom in between the J/88 and J/111.
Add to this background the tremendous market response to the J/121 last fall, particularly the concept of a boat designed for adventure-style racing with fewer crew, and the J/99 design crystalized.
J/99 Specification Features

Steering – the standard configuration is a single centerline, balanced rudder with tiller. A twin rudder configuration is available (a popular short-handed set-up for tiller-driven boats). The T-shaped cockpit will accommodate a wheel option.
Deck Layout – there are several J/121 inspired additions including the hybrid jib lead system (floating trim ring with short fore/aft track), 8:1 inhauler system, cockpit-led controls (including outhaul, cunningham, and vang), an optional inner forestay provision, and an optional water ballast system. The standard backstay is a 48:1 double-ended, cascading system with an option for an integral hydraulic pump. The two self-tailing primary winches are located near the aft end of the coaming to allow easier trimming by the driver when in short-handed mode.
Spar Package – the J/99 mast is a new, custom engineered alloy section (anodized black) from AG+ Spars of France that incorporates a mainsail track as part of the extrusion. This innovation, first developed for the J/112E, eliminates over 12 meters (40') of fasteners and glue and allows the engineers to take advantage of the increased stiffness the integral track provides to the spar section. Add to this a tapered top section and quality fittings, and the result is a spar that delivers the best performance and rating value. The mast is keel stepped with an adjustable base, a pre-formed mast collar wedge and a water dam above deck.
Bowsprit – the J/99 features a fixed carbon sprit with bobstay, which can be removed by way of two bolts just aft of the stem. The primary benefits of a fixed sprit for offshore sailing are reduced weight in the bow and better protection against water intrusion.
Keel – the standard keel (1.9m/ 6.5') is comprised of an encapsulated cast iron fin with integral lead wedge shoe – a similar construction method as the J/112E and J/121. For IRC/ORC rating optimization, an all-lead fin keel (2.1m/ 6.9') will be available.
Interior Plan – the J/99, with J/111 headroom, will feel much closer in volume to a J/111 than a J/88. The J/99 retains the L-shaped galley and sit-down nav station of larger J's, as well as full-length settees and optional fold-up pilot berths. The two aft cabins are true cabins with privacy doors. This accommodation plan allows for up to 8 sleeping berths (4 in main cabin and 2 in each aft cabin), which is more than twice the crew needed to sail with. The forepeak area is dedicated as a head and sail storage (no v-berth available due to length).
Production Schedule
J/99 hull #1 is molded and in process at J/Composites. Launching is anticipated later this fall in Les Sables d'Olonne, France with full production to begin shortly thereafter.
J/Composites and J/Boats are working diligently on the specifications and pricing with the aim of providing the market an exciting new design at a compelling performance value. Specifications and pricing will be sent separately next week. We're looking forward to updating everyone on the progress of the J/99 project and hull #1 as it nears launching later this fall.