J 70 Sport Sailboat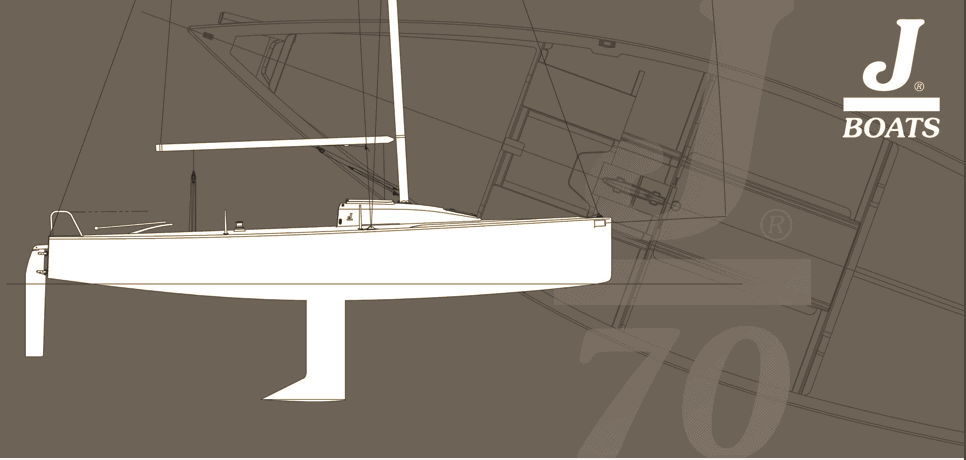 [:nl]Gemakkelijker te traileren, tuigen en te water te laten.
De J 70 speedster (7m) is de eerste kielboot van J/Boats die eenvoudig via de trailer helling te water gelaten kan worden. Ontworpen met het oog op een eenvoudig te beheren, hoge prestatie one-design boot die uitdagend is om te zeilen, stabiel genoeg is om de familie mee te nemen, en eenvoudig achter een standaard auto mee genomen kan worden. Waarna het tuigen op de parkeerplaats, en te water laten te doen is alleen of met 2 personen. Daarnaast is de J 70 robuust gebouwd.
Door de verplichte winches voor de fok en spinnaker, het vederlichte roer en vertrouwenwekkende stabiliteit, betekent dat je vaker met vrienden en familie gaat zeilen. Kinderen en ouderen zullen zich net zo comfortabel voelen aan het roer als aan de zeiltrim. Of u nu een dagje gaat zeilen, avondwedstrijden. De J 70 is uitdagend en vergevingsgezind. En als u klaar bent om de stevigere competitie aan te gaan, dan bieden de nationale en internationale competities voldoende uitdaging.
Met deze boot, kiest u hoe u haar wilt gebruiken. Een sportieve boot voor familie uitstapjes, of een race met gelijke middelen. Haar lichtgewicht design betekent dat u snel het genot ervaart van er op uit gaan, haar uitgekiende zeilplan maakt deze bestseller compleet veilig en toegankelijk.
Meer informatie over de J 70 kunt u hier vinden.[:en]Easier to trailer, rig and ramp launch.
The J 70 Speedster (7m) is J/Boats' first fully ramp-launchable, keelboat – designed to fulfill a growing need for an easy-to-own, high performance one-design that is exciting to sail, stable enough for the entire family, easy to tow behind the family vehicle, to rig in the parking lot, ramp launch and sail.  Plus, J 70 is built to last.
Easy for the entire family to join in!
With mandatory on-board jib/spinnaker sheet winches, a feather light responsive helm and confidence building stability, you can enjoy sailing with friends and family more often.  Kids or seniors will feel as comfortable and in control steering or trimming sails, whether for daysailing or evening sunset races, the J 70 will be both exciting and forgiving.  When you are ready to take it to the next competitive level, the competition at national events won't disappoint
With this recreational boat, you get to choose how you want to use her: a sporty pressure-free family escapade or a race on equal terms? Her lightweight design means you can quickly enjoy the delights of slipping along and her contained sail plan makes this bestseller totally safe and accessible.